gm. Nowy Dwór Mazowiecki, pow. nowodworski, woj. mazowieckie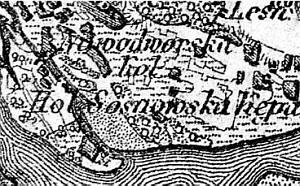 Holendry Sosnowska Kępa was founded at the end of the 18th century. The village no longer exists, but it was originally located to the south of Nowy Dwór Mazowiecki and Wólka Górska on the northern side of the Vistula.
The cultural landscape characteristic for the Dutch settlement has been transformed as a result of an erection of a high flood-bank, which runs through the former area of the village.