gm. Nowy Staw, pow. malborski, woj. pomorskie

Until 1945 Trampenau TK (Gotha, Endersch, Schrőtter)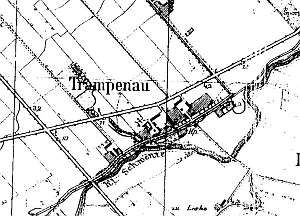 The village was founded in 1376. The sources from 1776 mentioned Jacob Ens and Jacob Claasen. In 1820, the village had 149 residents, including 15 descendants of Dutch colonists. In 1885, the village had 546 ha of land, 14 houses, 205 Catholics and Lutherans, and 22 Mennonites. In 1936, Trepnowy was inhabited by 5 families of the Dutch origin - Claasen, Hamm, Nieufeld, Penner, and Wiebe.
Village layout - a linear village with buildings on northwestern side of an old road from Nowy Staw to Tropiszew.
The cultural landscape is in good condition with a detectable spatial layout. Historical architecture includes a homestead with 5 outbuildings and a house, a 3 masonry houses from the beginning of the 20th century, 2 wooden houses, and a longitudinal Dutch homestead. A cobble stone road lined mainly lined with limes, but also oaks, maple trees, and ashes has survived.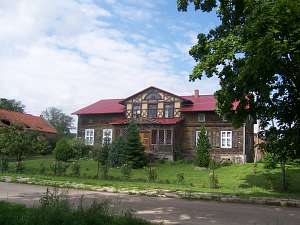 No. 6 is a 1.5 storey building from the 4th quarter of the 19th century situated on the northern side of the street. It has an attic room in the southern slope of a low, double-pitched roof, a log structure in the ground floor, pointing sill, and lower gable sections, and a half-timbered structure in upper gable sections. The northern section is boarded horizontally, while the southern section, including the attic room, has a plastered half-timbered structure with brick filling. The entrance has a wooden porch with fretwork decoration - plant motifs and tetrahedronal stars. The frontal, symmetrical elevation has 7 axes.
No. 7 is a house from a Dutch homestead situated on the southern side of the street, facing it with its ridge (farming section demolished). It was erected in the 1st quarter of the 19 century. The house has a log structure with covered quoins, a vertically boarded gable, and an added wooden porch in front of the northern entrance.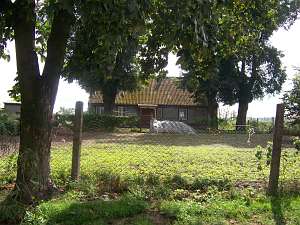 No. 14 is a building facing the street with its ridge. It dates from the 2nd quarter of the 19th century (modified at the end of the 19th century). It has a log structure with vertically boarded gables, a double-pitched ceramic roof, and a symmetrical frontal elevation with a porch in front of an entrance.
---
ML IV, s. 351, Lipińska, t. III, poz. 202, AG