gm. Strzelce, pow. kutnowski, woj. łódzkie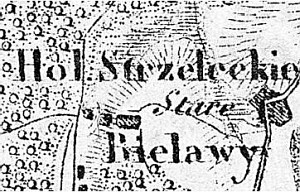 The village was settled by the Dutch colonists before 1790. In 1798, it had an Evangelical school.
Holendry Strzeleckie is a multi-street village located on the western side of the Kutno-Gostynin road along an east-west line.
The village has been completely transformed. No examples of traditional Dutch buildings have survived. The remains of homesteads located to the west of the village, a cemetery, and dispersed, regularly shaped clusters of vegetation (elevated above the marshy terrain) bear witness to the settlers stay in the area.
The cemetery is located in the western part of the village far from the present buildings. It has been established on a rectangular plan on an artificial rise and is entirely overgrown with bushes and trees. No gravestones have survived.

---
Dzieje Gostynina...;
SGKP, t. III, 1882, s. 100.