gm. Pruszcz Gdański, pow. gdański, woj. pomorskie

Until 1945 roku,Wesslinken TK (Schrötter) Wesslinsky(Endersch), Weslinck(Gotha)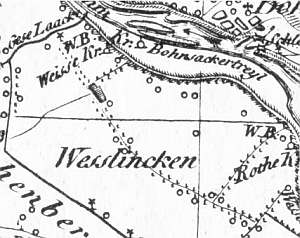 The village was granted a charter in 1346 and again in 1558 under the emphyteutic law. In 1613, the settlement had 22 morgas of land; the sources mentioned the village leader Korsch. In 1648, the village had 9 Mennonites (and 8 others). In 1820, the settlement was inhabited by 333 residents, including 11 Mennonites. In 1885, the village had 58 houses, 616 Lutherans and Catholics, and 6 Mennonites.
Village layout - mixed in the northern section, a flood bank linear village on the southern bank of the Martwa Wisła, and a single-homestead, linear village on terpy.
The cultural landscape of the village has been completely transformed by new buildings. Out of 20 old homesteads, only several buildings (almost entirely transformed) from the beginning of the 20th century have survived. .

No. 85 is a house from a Dutch homestead erected in 1839. It has a log structure with covered quoins and a vertically boarded gable. The interior has a 2-bay layout with uneven bays, the large room in the southwestern corner, a black kitchen in the large room bay, and an L-shaped, bipartite hallway separating a row of utility spaces. The frontal elevation has 6 axes; the gable wall has 3 axes with a 2-level gable and 4 axes in the bottom. There are two rectangular windows enclosed by quarter circular skylights and a semicircular skylight.
---
SGKP, t. XIII, s. 377; Penner, s. 15, 86; KZSwP, s. 67; Lipińska,t.3- 39; Kizik, s. 37.