gm. Cedry Wielkie, pow. gdański, woj. pomorskie

Until 1945 roku, Wotzlaf TK (Schrötter) Wotzlaw (Endersch),Wutzlaff (Gotha),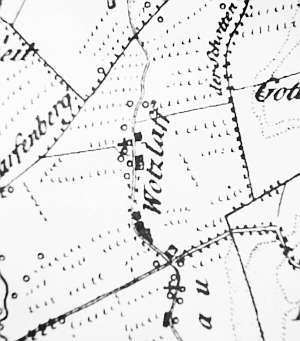 The settlement was a former knights' estate mentioned in 1308. Since 1310, it belonged to the Teutonic Knights, who developed the village under the Chełmno law. Since 1457, the village belonged to Gdańsk. Its privileges were renewed in 1465. The sources from 1675 mentioned 19 Mennonites, in 1725 - 13 Mennonites (and 3 others), in 1748 - 12 Mennonites (and 8 others), and in 1763 - 10 Mennonites. In 1820, the village had 369 residents, including 12 Mennonites. The petition from 1868 from Wocław was signed by Jacob, Johann, and Daniel Wiens.
Village layout - street and square village with colonies by the northbound and eastbound roads.
The cultural landscape has been completely transformed by modern buildings and the construction of the road E7. The spatial layout is barely detectable. There are ruins of a church and a cemetery in the village center. An arcaded house has not survived. Several old buildings have survived in the northern colony.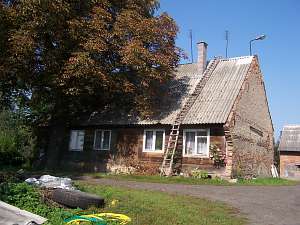 No. 56 is a house from a longitudinal Dutch homestead situated in the northern colony, on the northern side of the local road, facing it with its ridge. A cowshed and a barn were located on the eastern side. The house was erected in the 1st half of the 19th century on a brick underpinning. It has a log structure (dovetail joints) with quoins covered by Tuscan pilaster, a vertically boarded gable, and a queen post - purlin roof structure. The southern elevation has 6 axes and an entrance in the 3rd axis from the east with decoratively carved ends of ceiling beams supporting rafters. The gable elevation has 3 axes, a 2-level gable (4 axes in the lower level) with two windows enclosed by narrow, rectangular skylights, and a semicircular skylight above.
---
Penner, s. 86; KZSwP, s. 68-69; Lipińska,t.3- poz.14; AG , MP.