gm. Stare Pole, pow. malborski, woj. pomorskie

Until 1945 Reichfelde, Reichfeld TK (Endersch, Schrőtter), Reichsfelt (Gotha),
The village was founded in 1331 and received privileges in 1342. The sources from 1776 mentioned 3 Mennonite surnames: Joann Dick, Heinrich Dick, Joann Penner. In 1820, the village had 175 residents, including 5 Mennonites.
Village layout - an oval village in an east-west line with two large farms on the northern side and one, on the southern side.
The cultural landscape is in decline. In 1980s, 2-3 out 7 historical homesteads still had old buildings. Only 1 (out of 3) arcaded house still exists. A system of draining canals and polders has survived in the southern and northern sections of the village.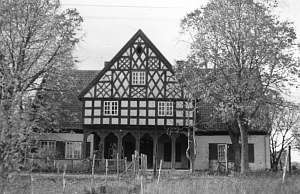 No. 20/22/24 is an arcaded house situated in the eastern section of the village, on the southern side of the road, facing it with its ridge. The building was erected at the end of the 18th century for Johann Gabriel Preuss. It is a plastered, wooden building with a half-timbered arcade (southern side) supported by 7 posts, a half-timbered gables, and a double pitched roof with pantile roofing. The southern bay is wider. The interior includes the large room in the southeastern corner, a black kitchen in the large room bay, and an L-shaped hallway, which separates a summer and utility rooms. The gable elevation has 3 axes, while the frontal - 7 axes with an arcade in the axes 3-5 and a centrally located entrance.
No. 23 was a longitudinal homestead with a half-timbered building from ca. 1800. It no longer exists.
No. 3 is a longitudinal homestead with a wooden house from 1870. It has a log structure with quoins covered by boards imitating Tuscan pilaster, a 3-axial gable wall, a 4-axial gable, and a porch located in the center of the frontal elevation.
---
AG IV; Lipińska, t. III, poz. 231.