gm. Młodzieszyn, pow. sochaczewski, woj. mazowieckie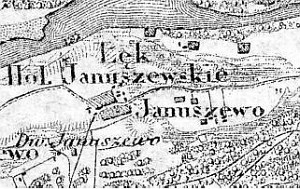 In 1785, Adam Lasocki, the Sochaczew castellan imported three Dutch colonists: Jakub Baumyard, Marcin Kop, and Michał Wuluram, who settled on Januszew's lands and meadows located by the Vistula river. In 1827, the village had 22 houses and 165 residents; it was part of the Evangelical congregation in Iłów.
Januszewo is a linear village with buildings located on the northern (near a flood-bank) and southern sides of the Kamion-Iłów road.
The cultural landscape of the village is well preserved with planted vegetation, homesteads located on artificial rises, and drainage canals. Homestead driveways are situated on elevated embankments - trytwy. Majority of buildings are modern; however, three traditional Dutch buildings have survived. They are located along an east-west line with residential sections facing east. The building that is in best condition is situated in the western section of the village.
Building no. 42 was erected ca. 1918. Its residential section and a cowshed are located under one roof. High walls are covered with a high double-pitched roof with roofing paper and fiberboard. Walls are built of wood (poplar, pine, oak) and have a corner-notched log structure with dovetail halvings and protruding log ends; they are boarded and covered with roofing paper. The truss work has a rafter-collar beam structure. The interior has a two-bay and three-axial layout with a centrally located wide chimney, which splits the interior into two kitchens and two rooms. Czarna kuchnia is located low on the ground floor.
Originally, until the end of 1970s, the homestead included two other authentic objects, which were erected at the same time as the house and were related to farming - a fruit drying room and a pigpen. The drying room had a mixed structure: drying chambers located on the southern side were made of bricks, while the storage space was wooden and had a post construction planked with vertical boards. The entire space was covered with a rafter-collar beam roof with ceramic tiles. The pigpen was entirely built of pine and oak (ground sill) wood; it had a corner-notched log structure joined at corners by dovetail halvings with protruding log ends. This object was also covered with a rafter-collar beam structure with ceramic tiles. It included two spaces: a summer kitchen and a proper pigpen. Unfortunately, neither of these objects has survived.
A basic architectural documentation has also been prepared for the non-existent objects. These include: a house no. 4, from 1871; coach house no. 4, from 1883; and a house no. 45 erected ca. 1918 r. (BK - Wojciech Marchlewski).

---
AGAD, Księgi Ziemskie Gostynińsko-G±bińskie. Księga 4. Recog et Oblatei 1788-1791;
SGKP, t. III, 1882, s. 442.