gm. Ryjewo, pow. kwidzyński, woj. pomorskie

Do 1945 roku Ziegelscheune, Hammerkrug, Heidemühl, Schinkenland, Jesuitenhof)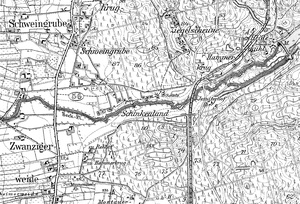 An information about the mill appears in 1419. It is also mentioned in 1664. In the 19th century, a sluice and a pond were built there. In that period, the mill was owned by: Gottfried Schneider, Karl Bod and brothers Otto and August Müller. The present village embraces also the settlement of: Ziegelscheune; Hammerkrug – in which there allegedly was situated a foundry of cannonballs, active in the years 1579-81 during King Batory's wars against Moscow. The Jesuitenhof settlement was endowed to the Jesuits in the 17th century by the starost of Sztum, Jan Karasiński. In the beginning of the 20th century, the property was in the hands of the Krzemiński family. In the middle of the 18th century, the settlement of Schinkenland was leased by the starost of Sztum, Tekla Bielińska, to Mennonites: Jacob Nickel, Hendrich and Cornelius Penner for a period of 50 years. In the period from the middle of the 16th century till the end of the 18th century these places were part of the poviat od Sztum of the Malbork Voivodship, while in the Prussian period, they were part of the poviat of Sztum of the Kwidzyn Regency. At the end of the 19th century it was defined as a home farm and a colony consisting of 13 houses, 108 inhabitants (in this 102 Catholics), affiliated to the parish of Pestlin.
A village situated on the right bank of the Vistula, in the north-western part of the Kwidzyn Lowland, about 15 km south-west of Sztum. The current settlement consists of 5 villages which were independent in the 19th century. Ziegelscheune was arranged in the system of streets, Schinkenland in rows, Jesuitenhof was a home farm establishment, Hammerkrug as a colony, and Heidemühl as an industrial colony.
The traditional cultural landscape has not been preserved in fact, today, one cannot distinct between particular layouts of settlements, apart from the row system settlement of Schinkenland.

---
SGKP, t. 1, s. 323; Opis królewszczyzn w województwach chełmińskim, pomorskim i malborskim w roku 1664, wyd. J. Paczkowski, Fontes 32, TNT, Toruń 1938, s. 143; Wiebe H., Das Siedlunkswerk niederländischer Mennoniten im Weichseltal zwischen Fordon und Weissenberg bis zum Ausgang des 18.Jahrhunderts, Marburg 1952, s. 41; E. Wernicke, Kreis Marienwerder. Aus der Geschichte des Landkreises bis zum 19. Jahrhundert, Hamburg 1979, s. 210.