gm. Sadlinki, pow. kwidzyński, woj. pomorskie

(Do 1945 roku Stangendorf)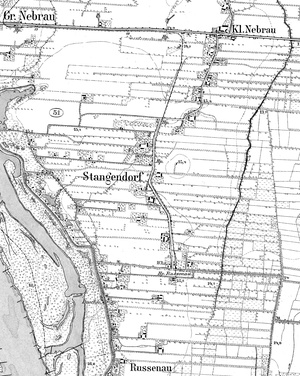 The former name Stangendorf may suggest that Dytrych Stango, administrator of the bishops properties till 1285, located settlers under German law. In the area of 504 ha, separated from the village of Nebrowo in 1576, there settled Mennonites under long-term lease agreements. In 1646, there also appeared Scots who dealt in door-to-door trade. In 1719, two inns were known to be there, the village was inhabited by 45 farmers. In 1939, the village counted 334 inhabitants and 93 farms.
A village arranged in rows, situated on the right bank of the Vistula, in the southern part of the Kwidzyn lowland, about 20 km south of Kwidzyn.
The cultural landscape preserved in a very good condition. The current layout of the village, settlements and fields is quite clear.

---
R. Flans, Das ehemalige Amt Marienwerder, insonderheit die Amts-Niederung, "Zeitschrift des Historischen Vereins für Reg.-Bez. Marienwerder" H. 34, 1896, s. 78; R. Flans, Das ehemalige Amt Marienwerder, insonderheit die Amts-Niederung, "Zeitschrift des Historischen Vereins für Reg.-Bez. Marienwerder" H. 35, 1897, s. 7, 58-59; M. Kerner-Żuralska, Materiały do dziejów osadnictwa Pomezanii [w:] "Komunikaty Mazursko-Warmińskie", nr 2, 1964, s. 162; A. Lemański, W. Odyniec, J. Powierski, Dzieje wsi [w:] Kwidzyn. Z dziejów miasta i okolic, Olsztyn 1982, s. 246-247. Strony internetowe:
http://kwidzynopedia.pl/index.php/Glina
, 04.08.2009