gm. Kwidzyń, pow. kwidzyński, woj. pomorskie

(Do 1945 roku Mewischfelde, Kacza Kępa, Foxwinkel)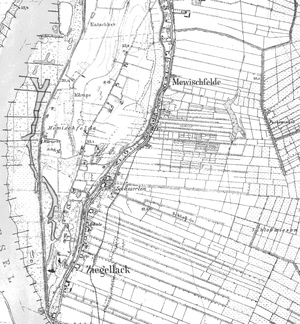 A village situated between two floodbanks. The older one, on the east side, might outline the original reaches of the river bed being a branch of the Vistula. The western part might outline Gniew Island which was granted to the Oliwa Cistercians together with the Gniew land. In 1282, together with Gniew, it became a property of the order. The area was part of the Gniew Commander's jurisdiction. In 1297, the town of Gniew was granted the right to catch fish in the Vistula, in the area adjacent to what was later called Gniewskie Pole (Gniew Field). In addition to that, the town was granted a meadow stretching between Mokry stream, flowing into the Vistula, and the boundaries of the Bishop's land - later, the area of the village. In 1570, the village was described as abandoned. In 1593, there already lived Mennonites. In the period of the Crown rule, the village, as a property of the Crown, constituted a part of the poviat of Tczew, in the Pomeranian Voivodship. In 1676, the starost of Gniew, Jan Sobieski, concluded an agreement with the townsmen of Kwidzyn on digging a drainage canal which was to constitute a border between the town properties and the royal properties. In 1664, Dutch settlers were said to live in the village. In 1780, the settlement was inhabited by 354 persons, and in 1910, 334 persons on the area of 830 ha. In 1939, 73 farms were inhabited by 311 persons. In the Prussian period, the village was part of the poviat of Kwidzyn in the Kwidzyn Regency. At present, the village has annexed the previously non-existing hamlets Kacza Kępa and Foxwinkel.
A village arranged in rows, situated on the right bank of the Vistula, in the northern part of the Kwidzyn lowland, about 10 km north-west of Kwidzyn.
The cultural landscape preserved in a very good condition. Unchanged layout of settlements, fields and roads.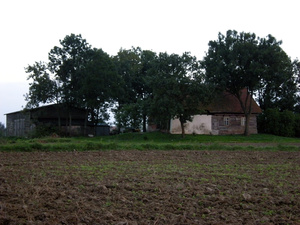 ---
SGKP, t.3, s. 628; Opis królewszczyzn w województwach chełmińskim, pomorskim i malborskim w roku 1664, wyd. J. Paczkowski, Fontes 32, TNT, Toruń 1938, s. 38; M. Kerner-Żuralska, Materiały do dziejów osadnictwa Pomezanii [w:] "Komunikaty Mazursko-Warmińskie", nr 2, 1964, s. 166; Lustracja województw Prus Królewskich 1624, z fragmentami lustracji 1615 r., wyd. S. Hoszowski, Gdańsk 1967, s. 143; A. Lemański, W. Odyniec, J. Powierski, Dzieje wsi [w:] Kwidzyn. Z dziejów miasta i okolic, Olsztyn 1982, s. 247; K. Mikulski, Osadnictwo wiejskie woj. Pomorskiego od poł XVI do końca XVII wieku, Rocznik TNT, R. 86, Toruń 1994, z. 2, s. 176; Lustracja województw Prus Królewskich 1765, Fontes 92, TNT, wyd. J. Dygała, t. 1, Toruń 2003, cz. 2, s. 113. Strony internetowe:
http://kwidzynopedia.pl/index.php/Gniewskie_Pole
, 04.08.2009.