gm. Sadlinki, pow. kwidzyński, woj. pomorskie

(Do 1945 roku Gross Grabau)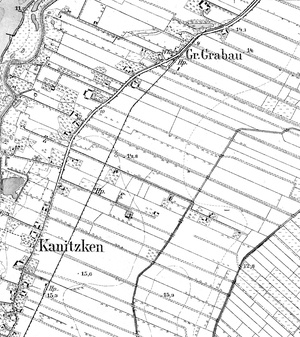 Beginning from 1250, the area of the village belonged to the properties of the Pomezanian bishops. Volkmar, the village leader in 1381, was known. This information may certify that the village was located under German law. In 1386, bishop Jan approved an agreement between the chapter and the inhabitants, concerning the distribution of irrigation works. In 1394, the inhabitants of Grabowo, together with other inhabitants of the bishop's marshland had to participate in works at the embankments in the Teutonic Knights' town of Wełcz. At the end of the 15th century a big flood was recorded here. In 1540, the village land was used as pastures. In 1575, the village was settled again with Mennonites from Wielkie Żuławy, who were brought by elector Albrecht Fryderyk. In 1581, that area (including Grabówko) was inhabited by 26 rent-paying settlers on 756 ha. A big flood took place in 1715. In 1788, 21 farms were mentioned to exist in the village. Fryderyk II wanted to build a stronghold here, but due to frequent floods, that plan was realized at last in Grudziądz. At the end of the 19th century, the village counted 439 ha and 210 inhabitants, most of them evangelicals. The village belonged to the Kwidzyn parish and post office, had a school in Grabówek. The settlers dealt in sheep breeding. In 1939, 43 farms were inhabited by 202 persons.
A village arranged in rows with colonies on the western side, situated on the right bank of the Vistula, in the southern part of the Kwidzyn lowlands, about 10 km south of Kwidzyn.
The cultural landscape preserved in a very good condition. The layout of settlements, fields and partly the tree-covered areas in the fields have remained unchanged.

---
SGKP, t. 2, .s 785; R. Flans, Das ehemalige Amt Marienwerder, insonderheit die Amts-Niederung, "Zeitschrift des Historischen Vereins für Reg.-Bez. Marienwerder" H. 35, 1897, s. 7, 17-21; M. Kerner-Żuralska, Materiały do dziejów osadnictwa Pomezanii [w:] "Komunikaty Mazursko-Warmińskie", nr 2, 1964, s. 166; A. Lemański, W. Odyniec, J. Powierski, Dzieje wsi [w:] Kwidzyn. Z dziejów miasta i okolic, Olsztyn 1982, s. 251. Strony internetowe:
http://kwidzynopedia.pl/index.php/Grabowo
, 04.08.2009.