gm. Kwidzyń, pow. kwidzyński, woj. pomorskie

(Do 1945 roku Klein Grabau, Gotteswerder)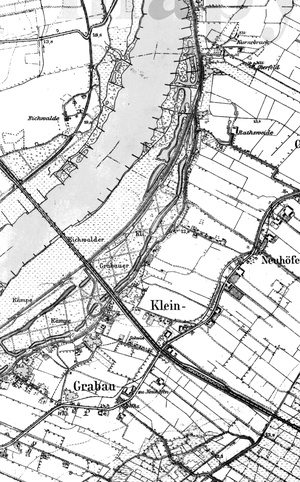 In 1454, a place called Gotteswerder was mentioned among the villages situated in Żuława kwidzyńska (the Kwidzyn Marshland). In 1460, a military unit stationed there. The area was exposed to frequent floods. Grabówek separated itself as a village from Grabowiec only in the 18th century. In 1788, there were 46 farms here. At the end of the 19th century, it counted 7,469 acres of land, 86 houses, 28 Catholics, 459 evangelicals. A parish, post office and a train station, as well as a school were in place. Entrenchments made by the Napoleon's army to defend the crossing through the Vistula are still visible. In 1939, in the village there were 139 farms inhabited by 482 persons.
A village arranged in rows, distorted by the road running to the bridge, situated on the right bank of the Vistula, in the southern part of the Kwidzyn lowlands, about 10 km south of Kwidzyn.
The cultural landscape preserved in a good condition in spite of the transformations of the village on the turn of the 19th century, the original layout is clear.

---
SGKP, t.2, s. 781; M. Kerner-Żuralska, Materiały do dziejów osadnictwa Pomezanii [w:] "Komunikaty Mazursko-Warmińskie", nr 2, 1964, s. 166; A. Lemański, W. Odyniec, J. Powierski, Dzieje wsi [w:] Kwidzyn. Z dziejów miasta i okolic, Olsztyn 1982, s. 251-252. Strony internetowe:
http://kwidzynopedia.pl/index.php/Grab%C3%B3wko
, 04.08.2009