gm. Sadlinki, pow. kwidzyński, woj. pomorskie

(Do 1945 roku Gutsch, Gutts)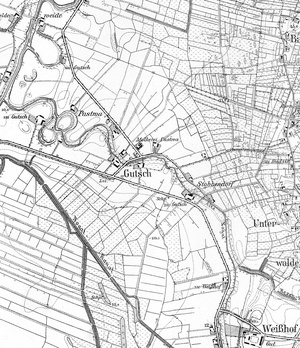 The first mention of the village comes from 1614, when a contract on settling of 2,352 ha with Mennonites was signed. The village, as a property of the Crown, was part of the poviat of Tczew, Pomeranian Voivodship. In 1664, it was mentioned as pastures for which the Dutch settlers paid a rent before the war against the Swedes. In 1760, the village counted 235 ha which were used by 6 Dutch settlers paying an annual rent. At the end of the 19th century, the village counted 1,432 acres of land. There were 22 buildings in it and 7 houses inhabited by 51 Catholics and 11 evangelicals. The village belonged to the Janowo parish, the school at Nowe Lignowy and the post office at Ryjewo.
A village arranged in rows, situated on the right bank of the Vistula, in the northern part of the Kwidzyn lowlands, about 20 km north of Kwidzyn.
The cultural landscape has been transformed a little by way of new developments along the road leading to Szkaradowo Wielkie.

---
SGKP, t. 2, s. 912; Opis królewszczyzn w województwach chełmińskim, pomorskim i malborskim w roku 1664, wyd. J. Paczkowski, Fontes 32, TNT, Toruń 1938, s. 38; M. Kerner-Żuralska, Materiały do dziejów osadnictwa Pomezanii [w:] "Komunikaty Mazursko-Warmińskie", nr 2, 1964, s. 166; A. Lemański, W. Odyniec, J. Powierski, Dzieje wsi [w:] Kwidzyn. Z dziejów miasta i okolic, Olsztyn 1982, s. 252; K. Mikulski, Osadnictwo wiejskie woj. Pomorskiego od poł XVI do końca XVII wieku, Rocznik TNT, R. 86, Toruń 1994, z. 2, s. 179; Lustracja województw Prus Królewskich 1765, Fontes 92, TNT, wyd. J. Dygała, t. 1, Toruń 2003, cz. 2, s.114.