gm. Ryjewo, pow. kwidzyński, woj. pomorskie

(Do 1945 roku Budzin, Unterwalde, Baggen)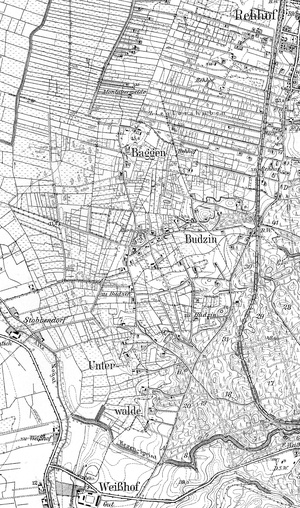 The present village of Jałowiec is composed of three independent settlements – Budzin, Baggen and Unterwalde, which had not been mentioned until 1648. In 1709, a privilege granted to settlers by Władysław Kretkowski was known. In 1776, Unterwalde and Baggen settlements were inhabited by 9 farmers each, respectively on 84 and 117 ha, who were paying a rent. In the Prussian period, the settlements were embraced by the poviat of Kwidzyn of the Kwidzyn regency. In 1928, they were merged into one rural organism.
A village composed of three settlements – all of which were arranged in rows, situated in the northern part of the Kwidzyn lowlands, about 10 km north of Kwidzyn.
The cultural landscape has been significantly transformed. The main settlement development was situated along the road leading to Ryjewo.

---
R. Flans, Geschichte Westpreussischer Güter, "Zeitschrift des Historischen Vereins für Reg.-Bez. Marienwerder" H. 21, 1889, s. 72; M. Kerner-Żuralska, Materiały do dziejów osadnictwa Pomezanii [w:] "Komunikaty Mazursko-Warmińskie", nr 2, 1964, s.166; E. Wernicke, Kreis Marienberg. Aus der Geschichte des Landkreises bis zum 19. Jahrhundert, Hamburg 1979, s. 100. Strony internetowe:
http://kwidzynopedia.pl/index.php/Ja%C5%82owiec
, 04.08.2009