gm. Kwidzyń, pow. kwidzyński, woj. pomorskie

(Do 1945 roku Johannisdorf, Kleinfelde, Bursztych, Kramersdorf, Neu Libenau)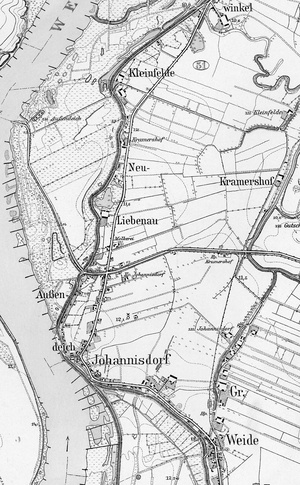 The present village occupies the space of several settlements which existed up to the 20th century. Apart from Janowo itself, those are Małe Pólko-Kleinfelde, Bursztych, Kramrowo-Kramersdorf and Nowe Lignowy-Neu Liebenau. They had been part of the royal properties in the poviat of Tczew in the Pomeranian voivodship. In the Prussian period, they were under jurisdiction of of the poviat of Kwidzyn of the Kwidzyn Regency. The first mention concerning Janowo village comes from 1682. In 1746, a Protestant church was mentioned. In 1760, the village owned 218.4 ha of land and was inhabited by 14 Dutch settlers. In the years 1867-1872, a church was built in a neo-Gothic style. Since that time, it was a parish village. Earlier, the inhabitants of Janowo had to ford the Vistula river in order to get to the church in Gniew. At the end of the 19th century, the village covered an area of 2024,4 acres with 64 buildings, 31 houses. Among the inhabitants there were 157 Catholics and 126 evangelicals. Schools were situated in Wielkie Lignowy and Wielka Pastwa. In 1905, a narrow-gauge railway was pulled up to Janowo from Mareza. Kramorowo settlement was recorded already in 1682 as a colony (Kramorowo Dwór). In 1773, it was already a village with a village leader. Nowe Lignowy settlement was recorded in 1607 as a village with rent-paying Dutch settlers on 218.4 ha of land. After a flood in 1624, it was mentioned as a pasture. Małe Pólko settlement was recorded as a village in 1606. In the 1920 plebiscite, the inhabitants of all those places voted for accession to Poland.
A village originally consisting of several settlements stretched along one street in a row. It is situated on the right bank of the Vistula, in the northern part of the Kwidzyn lowlands, about 15 km north-west of Kwidzyn.
The cultural landscape has been preserved in a good condition, with the original layout of settlements and fields still clear.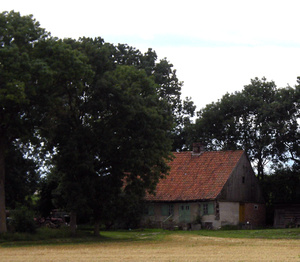 The relics of the village include St.John Church and a cemetery on a floodbank.
---
SGKP, t. 3, s.435; M. Kerner-Żuralska, Materiały do dziejów osadnictwa Pomezanii [w:] "Komunikaty Mazursko-Warmińskie", nr 2, 1964, s. 166; Lustracja województw Prus Królewskich 1624, z fragmentami lustracji 1615 r., wyd. S. Hoszowski, Gdańsk 1967, s. 143; A. Lemański, W. Odyniec, J. Powierski, Dzieje wsi [w:] Kwidzyn. Z dziejów miasta i okolic, Olsztyn 1982, s. 252; K. Mikulski, Osadnictwo wiejskie woj. Pomorskiego od poł XVI do końca XVII wieku, Rocznik TNT, R. 86, Toruń 1994, z. 2, s. 179; Lustracja województw Prus Królewskich 1765, Fontes 92, TNT, wyd. J. Dygała, t. 1, Toruń 2003, cz. 2, s.114-115. Strony internetowe:
http://kwidzynopedia.pl/index.php/Janowo
, 04.08.2009