gm. Kwidzyń, pow. kwidzyński, woj. pomorskie

(Do 1945 roku Mareese)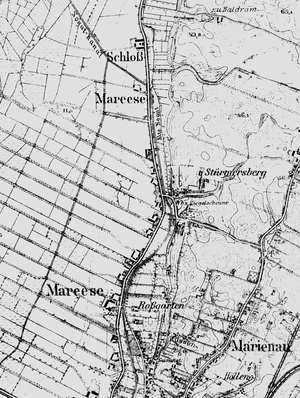 The name of the village originates from Mariensee lake which was created during irrigation works at Stary Nogat (Liw) in the times of the Teutonic Knights. In 1336, bishop Bertold gave to the town the pastures which later included Mareza Górna (Upper Mareza). In 1527, the manor farm situated here was granted to the Protestant bishop, Paweł Separatus. After his death, it was returned to the duke's starosty. In 1607, Mareski Dwór (Mareese Schloss) farm was created, next to which the village was developing as well. The manor was merged with the village in 1928. At the end of the 19th century, the village had 60 houses inhabited by 465 evangelicals and 111 Catholics. The property which, at that time, was owned by Jan and Henryk Ehms, was inhabited by 45 persons (38 evangelicals, 7 Catholics).
A settlement with a row layout and dispersed colonies and a manor house farm assumption. The present village embraced the hamlets Rossgarten and Stürmerberg. Situated on the right bank of the Vistula, in the middle part of the Kwidzyn lowlands; to the west of the border with Kwidzyn.
The cultural landscape preserved in a good condition. The layout of villages is clear until today, provided that it has been subjected to significant urbanization processes connected with the development of Kwidzyn itself.

Many inhabitant buildings from the turn of the 19th century have been preserved, including the train station and the school.
---
SGKP, t. 6, s. 111; M. Kerner-Żuralska, Materiały do dziejów osadnictwa Pomezanii [w:] "Komunikaty Mazursko-Warmińskie", nr 2, 1964, s. 163; A. Lemański, W. Odyniec, J. Powierski, Dzieje wsi [w:] Kwidzyn. Z dziejów miasta i okolic, Olsztyn 1982, s. 268-269. Strony internetowe:
http://kwidzynopedia.pl/index.php/Mareza
, 05.08.2009.