gm. Sadlinki, pow. kwidzyński, woj. pomorskie

(Do 1945 roku Klein Nebrau)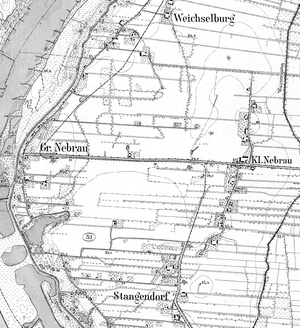 In 1624, settlement Małe Nebrowo was separated from Wielkie Nebrowo. In 1630, German settlers began to arrive, mainly from the Western Pomerania. The village suffered from floods in the years 1663, 1670 and 1672. The villagers, together with the inhabitants of Wielkie Nebrowo, were obliged to care of the Vistula embankment and jointly liquidate ice jams and pay for the repairs. In 1788, in the village there were 17 farms. Farmers who had been settled there under a long-term lease were given the land (from 1788) for perpetual use. At the end of the 19th century, the village counted 2,168 acres of land, 86 buildings, 22 houses, 247 inhabitants, in this 12 Catholics and 235 evangelicals. An evangelical school, Catholic parish and evangelical parish were in place.
A village arranged in rows, situated on the right bank of the Vistula, in the southern part of the Kwidzyn lowlands, about 20 km south of Kwidzyn.
The cultural landscape preserved in a very good condition. The original layout of settlements and fields is clearly visible.

---
SGKP, t. 6, s. 944; M. Kerner-Żuralska, Materiały do dziejów osadnictwa Pomezanii [w:] "Komunikaty Mazursko-Warmińskie", nr 2, 1964, s. 167; A. Lemański, W. Odyniec, J. Powierski, Dzieje wsi [w:] Kwidzyn. Z dziejów miasta i okolic, Olsztyn 1982, s. 270-272. Strony internetowe:
http://kwidzynopedia.pl/index.php/Nebrowo_Małe
, 04.08.2009