gm. Kwidzyń, pow. kwidzyński, woj. pomorskie

(Do 1945 roku Neuhöfen)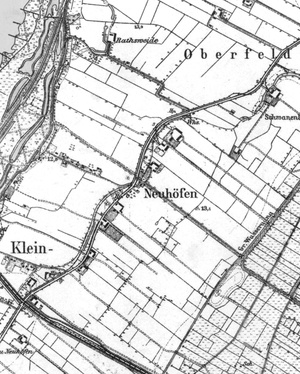 In 1338, a bishop's mansion existed here, known as Nova Curia, which later was named Neuhof. In 1414, the bishop's manager in Nowy Dwór (Neuhof) was Mikołaj Kluger. In 1454, bishop Kaspar complained to the Grand Master that the Polish regulars and the unionists stole cattle from Nowy Dwór. A witness in the canonization trial of Saint Dorothea was Dorota, wife of Paweł Baser from Nowy Dwór. In 1414, the bishop's manager in Nowy Dwór was Mikołaj Kluger. Apart from the war havocs, the village suffered from floods, of which the result was the abandoning of the manor farm. The village was resettled from anew by Mennonites in 1584, which was accompanied by creation of a new manor farm. In 1885, the settlement counted 640 ha of land, 198 persons.
A village arranged in a rows, situated on the right bank of the Vistula, in he central part of the Kwidzyn lowlands, west of Kwidzyn.
The cultural landscape preserved in a very good condition, the original layout of the settlements and fields is clearly visible.

---
R. Flans, Das ehemalige Amt Marienwerder, insonderheit die Amts-Niederung, "Zeitschrift des Historischen Vereins für Reg.-Bez. Marienwerder" H. 35, 1897, s. 7, 49-52; M. Kerner-Żuralska, Materiały do dziejów osadnictwa Pomezanii [w:] "Komunikaty Mazursko-Warmińskie", nr 2, 1964, s. 167; A. Lemański, W. Odyniec, J. Powierski, Dzieje wsi [w:] Kwidzyn. Z dziejów miasta i okolic, Olsztyn 1982, s. 274-275. Strony internetowe:
http://kwidzynopedia.pl/index.php/Nowy_Dwór
, 05.08.2009