gm. Sadlinki, pow. kwidzyński, woj. pomorskie

(Do 1945 roku Ellerwalde)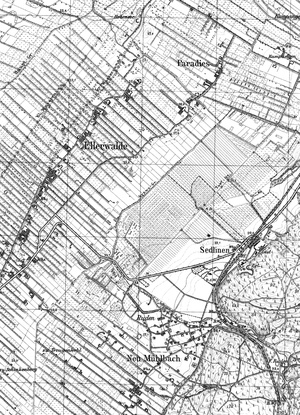 A village settled with 21 Mennonites on 907 ha of land in 1575. The contract was signed for 30 years, in which 6 years were free of payment. In 1607, an inn was mentioned to exist there. In 1609, Heinrich Stroband got 168 ha of land from the elector for 30 years. Due to the flood in 1673, a part of the land was covered with sand. In 1939, in the village there were 129 farms and 605 persons.
A village arranged in rows, situated on the right bank of the Vistula, in the southern part of the Kwidzyn lowlands, about 6 km south of Kwidzyn.
The cultural landscape preserved in a good condition. The original layout of homesteads and fields can be clearly seen.

The village relics include a school with an arcade, dated to the beginning of the 20th century and an evangelical cemetery.
---
R. Flans, Das ehemalige Amt Marienwerder, insonderheit die Amts-Niederung, "Zeitschrift des Historischen Vereins für Reg.-Bez. Marienwerder" H. 35, 1897, s. 6, 16; M. Kerner-Żuralska, Materiały do dziejów osadnictwa Pomezanii [w:] "Komunikaty Mazursko-Warmińskie", nr 2, 1964, s. 167; A. Lemański, W. Odyniec, J. Powierski, Dzieje wsi [w:] Kwidzyn. Z dziejów miasta i okolic, Olsztyn 1982, s. 275-276. Strony internetowe:
http://kwidzynopedia.pl/index.php/Olszanica
, 05.08.2009.