gm. Kwidzyń, pow. kwidzyński, woj. pomorskie

(Do 1945 roku Gross Weide)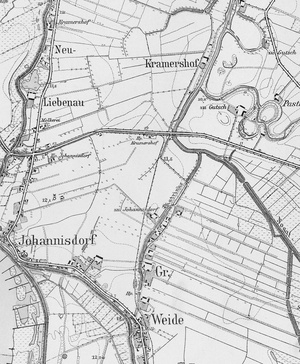 A Vistula river hillock in the place of the present village was used as pastures in the 16th and 17th centuries. It belonged to Gniew. In 1624, the village was recorded as Pastwisko Wielkie (Great Pasture). In 1664, it was described as abandoned and flooded due to a break in a floodbank. It was mentioned again in 1682 . In that period it was part of the Tczew poviat, Pomeranian voivoidship, as a property of the Crown. In 1760, the village owned 370 ha of land, on which there lived 13 Dutch settlers and there was an inn. The farmers paid a rent. In 1885, the village owned 260 ha of land inhabited by 143 persons. It belonged to the Catholic parish of Tychnowy and evangelical parish of Tromnowo.
A village arranged in rows on the right bank of the Vistula, in the northern part of the Kwidzyn lowlands, about 10 km north-west of Kwidzyn.
The cultural landscape has been preserved in a clear condition.

The relic of the village is the Church of the Sacred Heart dated to 1912.
---
SGKP, t.7, s. 889; Opis królewszczyzn w województwach chełmińskim, pomorskim i malborskim w roku 1664, wyd. J. Paczkowski, Fontes 32, TNT, Toruń 1938, s. 39; M. Kerner-Żuralska, Materiały do dziejów osadnictwa Pomezanii [w:] "Komunikaty Mazursko-Warmińskie", nr 2, 1964, s. 167; Lustracja województw Prus Królewskich 1624, z fragmentami lustracji 1615 r., wyd. S. Hoszowski, Gdańsk 1967, s. 143; A. Lemański, W. Odyniec, J. Powierski, Dzieje wsi [w:] Kwidzyn. Z dziejów miasta i okolic, Olsztyn 1982, s. 279; Mikulski K., Osadnictwo wiejskie woj. Pomorskiego od poł XVI do końca XVII wieku, Rocznik TNT, R. 86, Toruń 1994, z. 2, s.179; Lustracja województw Prus Królewskich 1765, Fontes 92, TNT, wyd. J. Dygała, t. 1, Toruń 2003, cz. 2, s.114. Strona internetowa:
http://kwidzynopedia.pl/index.php/Pastwa
, 05.08.2009