gm. Ryjewo, pow. kwidzyński, woj. pomorskie

(Do 1945 roku Rudnerweide, Klein Schardau)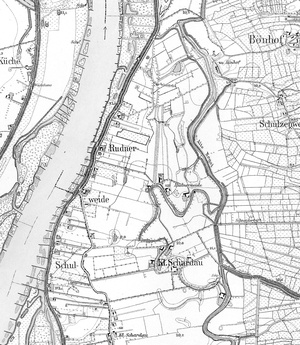 Runderweide village was established as a result of a settlement contract of 1742. The starost of Sztum, Michał Wiktor Bieliński, leased the land to 7 Mennonites for 30 years, which was confirmed by a privilege granted by king August III w 1748. In 1772, the Mennonites had 235 ha of land. A big flood was recorded, inter alia, in 1786. In 1885, the settlement counted 14 Catholics, 25 evangelicals and 47 Mennonites. The hamlet Klein Schardau, currently a part of Rudniki, was known already in the 17th century. In 1756, the starost of Sztum, Tekla Bielińska, granted the land to Mennonites. In 1885, it was inhabited by 26 Catholics, 32 evangelicals and 69 Mennonites. In 1928, both villages were merged into one administrative commune named Runderweide.
The present village is composed of two hamlets arranged in rows and a colony, situated on the right bank of the Vistula, in the northern part of the Kwidzyn lowlands, about 15 km south-west of Kwidzyn.
The cultural landscape has been preserved in a good condition. The original layout of homesteads and fields can be clearly seen.

The relic of the village is homestead No. 26 dated back to the end of the 19th century. In the middle of the 20th century there still existed homestead No. 8 from the 2nd half of the 18th century, including a barn from 1753.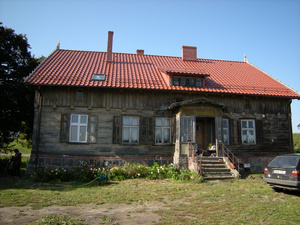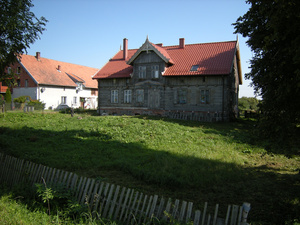 ---
H. Wiebe, Das Siedlunkswerk niederländischer Mennoniten im Weichseltal zwischen Fordon und Weissenberg bis zum Ausgang des 18. Jahrhunderts, Marburg 1952, ss. 40-41; J. Stankiewicz, Zabytki budownictwa i architektury na Żuławach, "Rocznik Gdański", t. 15-16, 1956–1957, s. 538.
http://kwidzynopedia.pl/index.php/Ryjewo
, 14.07.2009.