gm. Ryjewo, pow. kwidzyński, woj. pomorskie

(Do 1945 roku Rehhof)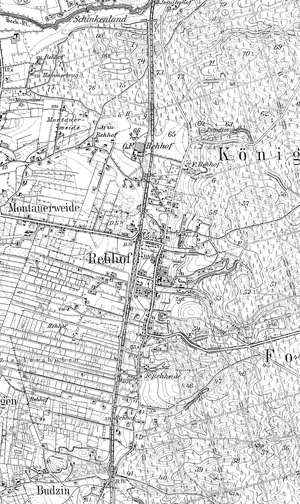 The name of the village was already known in the 14th century. During the rule of the Teutonic Knights there was a monastic farm here, which burnt in 1622. The village was established under a long-term lease by Mennonites in 1742. One of its components was also the forest property Oberforsterei Rehhof. In the years 1565 - 1772, the settlement was part of the Malbork voivodship. In 1801, it was included into the Malbork Economy. In 1895, an evangelical church was built and in 1909, a Catholic church was built, as well. In 1883, Ryjewo got a railway connection – the railway of the towns situated close to the Vistula. In 1868, the village counted 74 buildings, 39 houses, 309 inhabitants, 173 Catholics, 122 evangelicals and 14 dissidents. The Ryjewo Forestry Commission had 72 houses, 587 inhabitants, 302 Catholics, 278 evangelicals, 4 dissidents, 3 Jews.
A village arranged into streets and surrounding colonies, situated on the right bank of the Vistula, in the northern part of the Kwidzyn lowlands, about 10 km north of Kwidzyn.
The cultural landscape has been considerably changed because of the significant development of the village on the turn of the 19th century.

The relics of the village include churches: the Holy Family Church from 1907-1909; the post-evangelical Blessed Michał Kozal Church from 1895 and a lot of masonry developments from the turn of the 19th century.
---
SGKP, t. 10, s. 88; H. Wiebe, Das Siedlunkswerk niederländischer Mennoniten im Weichseltal zwischen Fordon und Weissenberg bis zum Ausgang des 18.Jahrhunderts, Marburg 1952, s. 40; E. Wernicke, Kreis Marienwerder. Aus der Geschichte des Landkreises bis zum 19. Jahrhundert, Hamburg 1979, s. 210. Strony internetowe:
http://www.ryjewo.pl/miejscowosci.htm
, 14.07.2009;
http://kwidzynopedia.pl/index.php/Ryjewo
, 05.08.2009.