gm. Ryjewo, pow. kwidzyński, woj. pomorskie

(Do 1945 roku Gross Schardau, Klein Schardau, Adlige Schardau)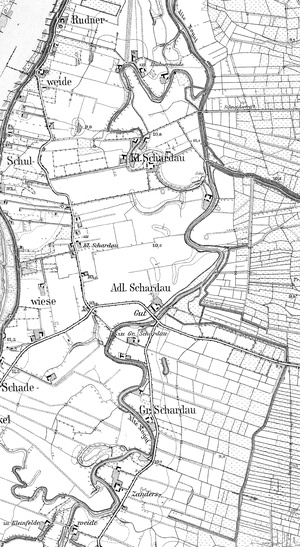 The present village has incorporated Szkaradowo Szlacheckie, Małe Szkaradowo and Wielkie Szkaradowo. Szkaradowo Szlacheckie was one of the few properties existing on the Kwidzyn lowlands apart from the Ryjewo manor farm and Jezuitenhof. In 1685, it was granted to Heinrich Pich from Gdańsk. At the end of the 19th century, the area of the village amounted to 96 ha, there were 2 houses, 38 inhabitants, 43 Catholics, 4 evangelicals. In 1779, it was granted to officer Gymnich under the Gentry Law. Szkaradowo Wielkie was established as a result of granting of settlement contracts. In 1664, 402 ha of pastures were mentioned, on which there lived 5 Dutch settlers. In 1758 r. Tekla Bielińska granted 117 ha of land to settlers: Stephan Balzer, Wilhelm Unrau, Heinrich Kwap and Cornelius Jantzen for 30 years. In 1786, a flood took place, which caused a lot of damage. In 1885, the village was inhabited by 21 Catholics, 9 evangelicals and 18 Mennonites. The wetlands on which Szkaradowo Małe was established was leased by Tekla Bielińska in 1756 to Mennonites: Peter Tgahrt, Heinrich Gertz, David Penner for 30 years.
A village which is currently composed of two settlements located as colonies and a manor farm, situated on the right bank of tghe Vistula, in the northern part of the Kwidzyn lowlands, about 15 km north-west of Kwidzyn.
The cultural landscape typical for the Dutch settlement, preserved in an acceptable condition.

---
SGKP, t. 11, s. 916-917; Opis królewszczyzn w województwach chełmińskim, pomorskim i malborskim w roku 1664, wyd. J. Paczkowski, Fontes 32, TNT, Toruń 1938, s. 143; Wiebe H., Das Siedlunkswerk niederländischer Mennoniten im Weichseltal zwischen Fordon und Weissenberg bis zum Ausgang des 18.Jahrhunderts, Marburg 1952, s. 41. Strony internetowe:
http://www.ryjewo.pl/miejscowosci.htm
, 14.07.2009.