gm. Sadlinki, pow. kwidzyński, woj. pomorskie

(Do 1945 roku Weichselburg)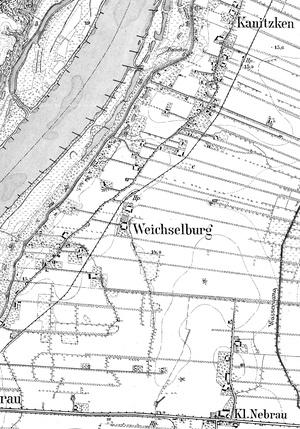 In the early medieval times, there was a fortified village here. In 1375, the village leader was Jan, and the village was probably located under German law. In 1386, there must have been a parish church here, of which the parson was Mikołaj from Wisilburg. In 1399, the leader of Wiśline was Werner. There already existed floodbanks in the village. In 1400, Wyselburg was described as a small town, of which the leader was Jan Swarczenyeckel. In 1405, it was again described as a village. It was a craftsmanship and trade centre. Its development was stopped by a great flood in 1427. A new development took place about 1580, when 13 Dutchmen settled on 470 ha of land. In 1643, Hans Riemer had an inn under a lease contract, here. In 1910, the village occupied 509 ha of land and was inhabited by 399 persons.
A village arranged in rows, situated on the right bank of the Vistula, in the southern part of the Kwidzyn lowlands, about 15 km south of Kwidzyn.
The traditional cultural landscape has been preserved in a good condition.

---
R. Flans, Das ehemalige Amt Marienwerder, insonderheit die Amts-Niederung, "Zeitschrift des Historischen Vereins für Reg.-Bez. Marienwerder" H. 35, 1897, s. 7; M. Kerner-Żuralska, Materiały do dziejów osadnictwa Pomezanii [w:] "Komunikaty Mazursko-Warmińskie", nr 2, 1964, s. 164; A. Lemański, W. Odyniec, J. Powierski, Dzieje wsi [w:] Kwidzyn. Z dziejów miasta i okolic, Olsztyn 1982, s. 298. Strony internetowe:
http://kwidzynopedia.pl/index.php/Wi%C5%9Bliny
, 05.08.2009.