gm. Góra Kalwaria, pow. piaseczyński, woj. mazowieckie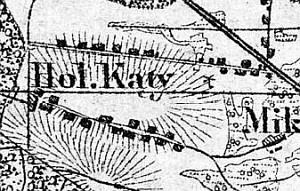 A section of the village of Kąty was settled by the Dutch colonists probably at the beginning of the 19tch century. The settlement exists only on the Mapa Kwatermistrzostwa; later maps do not include it. Most probably, the stay of the settlers was short-lived (they had moved out before the end of the contract?).
Kąty is a linear village situated by the Góra Kalwarii - Piaseczno road (both sides).
The village have been completely transformed; there are no material evidence related to the colonists.