gm. Gniew, pow. tczewski, woj. pomorskie

(Do 1945 roku Küche)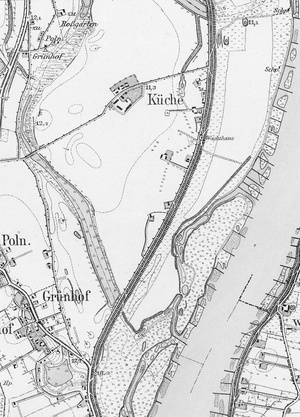 The place already known in the times of the dukes of Pomerania and the Teutonic Knights. That strategic position secured it against the fortified castle of Zantyr (on the opposite side of the Vistula River). In 1245, it was found to be owned by the Cistercians of Oliwa. In 1253, Sambor II endowed the place to the Teutonic Knights. In 1662, it was called a "colony" and was part of the Crown lands. In 1664, it was mentioned as Kępa alias Kuchnia pastures, until mid 18th century when it was settled by Mennonites. At the end of the 19th century it consisted of estates and villages sitting on an overall area of about 3 000 acres. It included: 12 buildings, 4 houses, inhabited by 68 Catholics, 2 evangelicals. The village embraced: 23 buildings, 11 house, 8 Catholics, 16 evangelicals. The village was part of the Walichnowy parish and had a school in Gronówek.
A village situated on the left bank of the Vistula, consisting of a home farm and a colony on the grounds of the Walichnowy Lowlands, about 2 km north from Gniew.
---
SGKP, t.4, s.838; Opis królewszczyzn w województwach chełmińskim, pomorskim i malborskim w roku 1664, wyd. J. Paczkowski, Fontes 32, TNT, Toruń 1938, s. 38; H. Wiebe, Das Siedlunkswerk niederländischer Mennoniten im Weichseltal zwischen Fordon und Weissenberg bis zum Ausgang des 18.Jahrhunderts, Marburg 1952, s. 40; Mikulski K., Osadnictwo wiejskie woj. pomorskiego od poł XVI do końca XVII wieku, Rocznik TNT, R. 86, Toruń 1994, z. 2, s. 179; Lustracja województw Prus Królewskich 1765, Fontes 92, TNT, wyd. J. Dygała, t. 1, Toruń 2003, cz. 2, ss. 111, 137.