gm. Karczew, pow. otwocki, woj. mazowieckie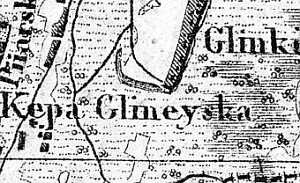 The village was settled by the Dutch colonists probably at the end of the 19th century. In 1827, it had 21 houses and 161 residents.
Kępa Gliniecka is a linear village located on the eastern side of the Vistula and to the north of the Góra Kalwaria - Mińsk Mazowiecki road. The buildings are located along a north - south lane between the flood-bank and the paved street running through the village.
Practically, the village has been completely transformed; the buildings date from the post-war period. No objects associated with the colonists residence have remained.

---
SGKP, t. III, 1882, s. 956.