gm. D±bie, pow. kolski, woj. wielkopolskie

(Hol. Borek - Mapa Kwatermistrzostwa – 1830, , Gaj - Mapa Chrzanowskiego - 1848)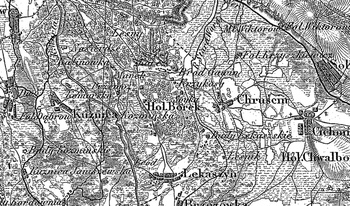 Village settled by the Hollander colonists at the end of the 18th century.
Colonial village situated west of D±bie, with few homesteads dispersed among the fields.
Traditional landscape related to the Dutch colonisation legible. Visible traces of land drainage carried out by the colonists – dewatering ditches and artificial planting of trees and shrubbery (especially on balks). The development characteristic for the colonisation under the Dutch law has not been preserved.