gm. Mikstat, pow. ostrzeszowski, woj. wielkopolskie

(Przedborów - Mapa Chrzanowskiego - 1848)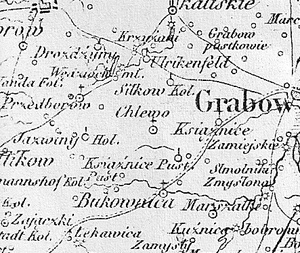 Former gentry village (owned by Biernacki) situated in the former Ostrzeszów poviat, Miksztat commune, Przedborów parish. In 1888 it counted 21 houses and 156 inhabitants. Holladers were settled there in 1784.
Small linear and colonial village, situated between Ostrzeszów and Grabów. It stretches from north-east to south-west, with homesteads mainly on the northern side of the road.
Landscape related to the Dutch colonisation transformed, illegible. Lack of material traces of colonists.

---
SGKP, T. IX, Warszawa 1888, s. 132, J. Goldberg, Osadnictwo...