gm. Ostrzeszów, pow. ostrzeszowski, woj. wielkopolskie

(Jaźwiny Hol. - Mapa Chrzanowskiego - 1848)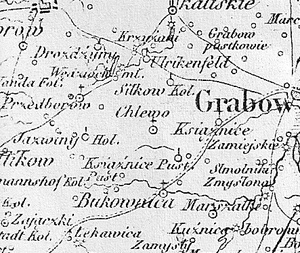 Former linear village (Ostrzeszów starosty), situated in the former Ostrzeszów poviat, with a post office, a school and St. Andrew's Church. In 1889 it had 163 houses 1243 inhabitants (1117 Roman Catholics, 126 Protestants; 573 men and 670 women) and 1255 ha of surface.
Large linear and single-street village situated between Ostrzeszów and Grabów. It stretches longitudinally, with homesteads on both sides of the road.
Landscape related to the Dutch colonisation transformed, illegible. Lack of material traces of colonists.

---
SGKP, T. X, Warszawa 1889, s. 508, J. Goldberg, Osadnictwo...