gm. Słupno, pow. płocki, woj. mazowieckie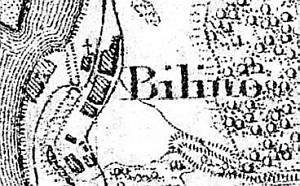 The village was mentioned for the first time in 1531. Dutch colonists settled in its vicinity in the second half of the 18th century and since then the village has consisted of two parts: the peasant village and the settlement by the river. In 1880, the village had 227 morga in area, while the settlement had 326 morga with 314 morga of arable land. It had 145 residents, who inhabited 21 houses. The village had an Evangelical house of prayer.
Bielino is a linear village located to the north of the Vistula between Pieńki Ośnickie and Liszyn, to the south of the Zakroczym-Płock road. The buildings are located on both sides of a dirt road that runs through the village along a north-south line.
The cultural landscape is well preserved - it has a detectable field layout with willows planted on the balks; it has numerous drainage canals and ponds collecting the excess water. Initially, some of the homesteads were located on the man-made hillocks. Two of these hillocks remain to the present day. The village has modern buildings.
---
SGKP, t. I, 1880, s. 213.