gm. Karczew, pow. otwocki, woj. mazowieckie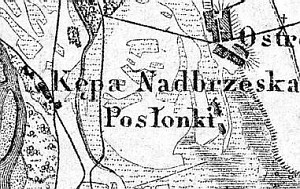 Kępa Nadbrzeska is a linear village, which initially was a part of Nadbrzerze. It was founded by German Evangelicals in the middle of the 19th century. Among its residents were settlers with the following names: Darchel, Pełka, Kalmer, and Schultz.
The village is situated along a north-south line and the flood-bank. The traditional cultural landscape has been considerably transformed with undistinguishable features and modern buildings.
---
Z. Zakrzewski, Historia wsi gminy Karczew, w: Karczew. Dzieje miasta i okolic, Karczew 1998.