gm. Bodzanów, pow. płocki, woj. mazowieckie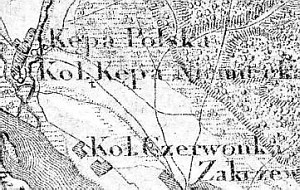 The village was settled by the colonists at the end of the 18th century. In 1882, it had 19 houses, 183 residents, and 486 morga in area.
The village no longer exists; originally, it was situated on the northern side of the Vistula between Białobrzegi and Kępa Polska.
The cultural landscape has been completely transformed (most probably, as a result of the shift of the Vistula's river bed).
No material remains of the colonization have survived.

---
SGKP, t. III, 1882, s. 957.