gm. Młodzieszyn, pow. płocki, woj. mazowieckie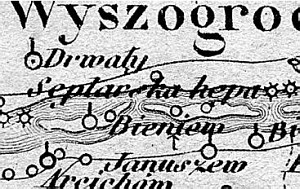 The settlement located on the Kępa, which was associated with colonization of the neighboring areas (beginning of the 18th century), existed until 1970s (three homesteads used by colonists, who settled in Kępa after WWII).
Kępa is located in the Vistula river bed parallel to the village of Drwały (from the north) and Januszewo (from the south). Remains of homesteads located in the northern sec
tion of the islet are the only material evidence of the Dutch settlers' residence. Due to the periodic connection with Januszewo (weir), the islet is still used for cattle grazing.

---
SGKP, t. X, 1889, s. 430.