gm. Brochów, pow. sochaczewski, woj. mazowieckie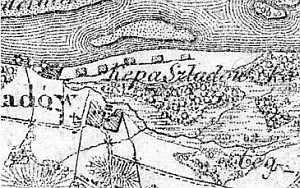 The Dutch settlement on Kępa is associated with colonization of the neighboring areas (end of the 18th century). Before 1866, Kępa was part of the Świniary estate. In 1889, the village had 5 homesteads and 55 morga of land.
Kępa Śladowska is located in the Vistula river bed parallel to the village of Czerwińsko nad Wisłą (from the north) and Śladowo and Kromnowo (from the south).
The cultural landscape has been modified. The settlers' buildings had been gradually taken down after the WWII; they were inhabited until the end of 1960s. No material objects have remained after the colonists, except for the road system.

---
SGKP, t. X, 1889, s. 755.