gm. Warszawa-Białołęka, pow. warszawski,, woj. mazowieckie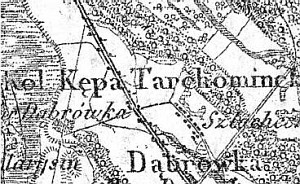 The village was colonized by the Dutch before at the beginning of the 19th century. In 1827, it had 40 houses and 98 residents.
Originally, Kępa Tarchomińska was a linear village located on the eastern side of the Vistula, parallel to Łomianki. The buildings were situated along a north-south line.
The village has been significantly transformed and urbanized after having been incorporated in the Warsaw's city limits in 1951. No material evidence of colonists' stay is present.

---
SGKP, t. III, 1882, s. 955.