gm. Borowiczki, pow. płocki, woj. mazowieckie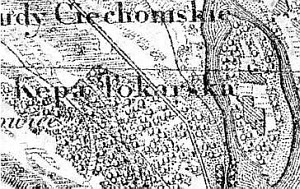 The colonists, who settled the islet were imported by the plenipotentiary of the Kujawy bishop, parish priest Wolicki in 1759. In 1827, the village had 2 houses and 33 residents. In 1892, the village had 55 residents, who cultivated 101 morga of land. The settlers' buildings had been gradually taken down after the WWII; they were inhabited until the end of 1960s.
The islet is located in the Vistula river bed parallel to the village of Ośnica and Borowiczek (from the north - Kępa Ośnicka) and Tokary (from the south - Kępa Tokarska). Periodically, these were two separate islets. The cultural landscape is detectable - vegetation planted along fields, willows planted along driveways, and remains of homesteads.
A small colonists' cemetery is located in the north-western part of the islet.

---
E. L. Ratzlaff, Im Weichselbogen. Mennonitensiedlungen...;
SGKP, t. XII, 1892, s. 359.