gm. Wyszogród, pow. płocki, woj. mazowieckie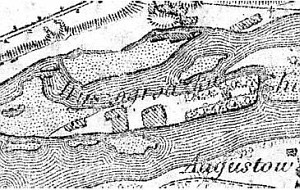 The settlement located on the islet was associated with colonization of the neighboring areas (beginning of the 18th century) and survived until 1970s (one homestead located in the north part of the islet along the river bed). The islet is located in the Vistula river bed parallel to Wyszogród (from the north) and Kamion Mały (from the south).
The cultural landscape is in good condition - remains of the homesteads with high vegetation as well as of orchards and bushes. The road system connecting individual homesteads have survived.

---
SGKP, t. III, 1882, s. 957.