gm. Iłów, pow. sochaczewski, woj. mazowieckie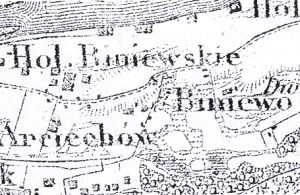 HThe Dutch settled in 1786 under agreement with the Sochaczew castellan Adam Lasocki. The contract was signed by: Krystian Wolff, Johan Egert, and Jerzy Wolff; the colonists were granted ca. 2 włóka of land. In 1902, the village had 185 inhabitants and 349 morga in area. Bieniew is a linear village located on the southern side of the Vistula along an east-west line, between Arciechów and Januszewo. The homesteads are located on both sides of the road. The cultural landscape of the village is well preserved with a detectable field layout, planted willow and poplars, remains of traditional homesteads on man-made rises, and drainage canals and ponds located by the homesteads.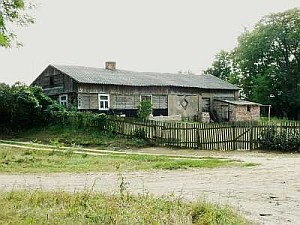 House no 6 is located in the central part of the village, on the southern side of the road. It lies along an east-west line on an artificial rise. It is a one-building homestead surrounded by a picket fence. The building is made of pine wood and plastered bricks; it has a corner-notched log structure planked with decorative boards (residential section). A brick annex is added to the north-west corner; it serves as a storage room and has a flat, asbestos tile, pent roof. The walls are covered with a low rafter-collar beam roof, which rests on pointing sills and is roofed with sheet metal. The residential section has a two-bay and two-axial interior with a centrally located fire system, which has been entirely rebuilt. The two-room cowshed has a centrally located passageway; a henhouse is located in the south-east section. The building is preserved in satisfactory condition.

---
AGAD, Księgi Ziemskie Gostynińsko-G±bińskie. Księga 4. Recog et Oblatei 1788-1791, s. 157.
SGKP, t. XV/1, 1900, s. 145.