gm. Karczew, pow. Otwock, woj. mazowieckie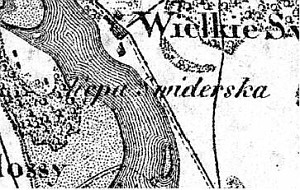 The village was founded by the Evangelical German and Dutch settlers. It was part of the Otwocki estate. The village was also called Kępa Świderska. The residents' surnames included: Litke, Mantlow, Lempke, Waszkop, and Zielenieccy among Polish families. The last surname was derived from the settlement's name. In the 1880s, the settlement had 5 farmers and 29 morga of land. Kępa Zieleniecka, due to the pressure of the waters, had been changing its location and eventually ceased its existence. Only the name Uroczysko Zieleniec, (situated on the other side of the Vistula) remained after the settlement.

---
Z. Zakrzewski, Historia wsi gminy Karczew...