gm. Kozienice, pow. kozienicki, woj. mazowieckie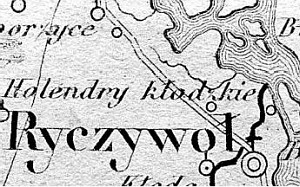 The first mention of the village dates from the beginning of the 15th century. The Dutch colonists settled the section of the village that is located near the Vistula at the beginning of the 19th century. Kłoda is a linear village situated near the spot where the Radomka flows into the Vistula - on its northern bank. It stretches on the Vistula's flood plain.
The cultural landscape is in satisfactory condition - it has a detectable field layout with willows planted on the balks as well as drainage canals and ponds collecting the excess water. The homesteads are modern; no historical objects associated with the colonists have survived.

---
SGKP, t. IV, 1883, s. 179.