gm. Gostynin, pow. gostyniński, woj. mazowieckie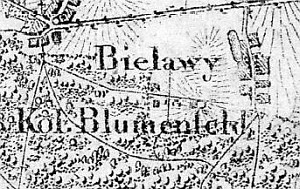 Blumenfelde is a Dutch village, which was founded between 1792 and 1796 to the south of the village of Bielawy, as part of it. It has not survived to the present day. In 1805, the village had an Evangelical school; in ca. 1880, the village had 111 residents living in 12 houses. Its area equaled 243 morga.
The Dutch part of the village has not survived to the present day; it was situated to the south of Bielawy, which is located on the southern side of the Korzeń Królewski - Gostynin road.
The buildings in the neighboring Bielawy are modern and are located along a north-south line, on both sides of a road. The cultural landscape associated with the Dutch colonization has been transformed.

---
Dzieje Gostynina...;
SGKP, t. I, 1880, s. 210.