gm. Leoncin, pow. nowodworski, woj. mazowieckie

The Dutch colonization of the village is associated with colonization of the neighboring areas located directly by the Vistula. The Dutch settled in the village in the first half of the 19th century. They constituted minority. Krubiczew is a linear village located to the south of Nowiny along an east-west line, next to the Leoncin-Nowiny road, on the northern edge of the Kampinos forest. The village has been considerably transformed; the buildings are new. It is located approx. 100 m from the road on its southern side.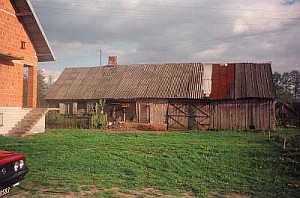 The last Dutch building survived until 1993. It was located on the southern side of the road and was built by the carpenter Wacław Zieliński, who erected similar houses on the north side of the forest. The building was his residence. The house was made of wood and included a residential section (on the eastern side), a barn, and a cowshed under one roof. The building had two types of structure: a corner-notched log structure, joined at corners by dovetail halvings with protruding log ends and a timber frame structure, which was planked with vertical boards (barn). The residential interior had a two-bay and two-axial interior with a centrally located fire system.