gm. Iłów, pow. sochaczewski, woj. mazowieckie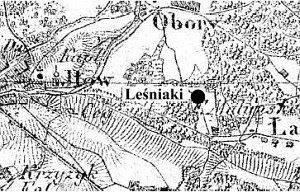 The village was settled by the Dutch colonists, most probably, at the end of the 18th century. At that time, it was part of the neighboring settlements - either Łaziska or Obory. Its current name was mentioned for the first time in SGKP. According to this source the village belonged to the Evangelical parish Iłów.
Leśniaki is a linear village located along a north-south line on the north side of the Młodzieszyn-Iłów road. The buildings are mainly situated on the western side of the dirt road that runs through the village. They face it with ridges.
The cultural landscape is well preserved with a detectable field layout and planted trees, which were initially associated with the marshy terrain.
Three examples of Dutch architecture have survived. The houses include a residential sections and cowsheds under one roof. All buildings are dilapidated and have not been occupied in a long time; they have no numbers. The objects are situated along a north-south line and face south with their residential sections. The walls are made of a clay-straw mixture (glinobitka).
The farm section of the house, which is located in the northern part of the village, is built of bricks bonded with lime mortar. The house located in the southern part of the settlement (on the photograph) has a porch on the yard side. The roofs of two houses have not survived. The roof of the house located in the southern section has a rafter-collar beam structure covered with roofing paper.

---
SGKP, t. V, 1884, s. 159.