gm. Ojrzeń, pow. ciechanowski, woj. mazowieckie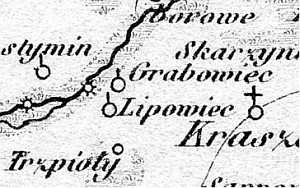 The village was founded ca. 1820. The village was inhabited by Mennonites who were associated with the Wola Wodzyńska church. In 1884, the village had an Evangelical house of prayer, a school, 16 houses, and 157 residents. The village area equaled 243 morga.
Lipowiec is a linear village located to the north-east of Ojrzeń by the Łydynia river.
The cultural landscape has been transformed with new buildings and homesteads.
There are no preserved buildings associated with the Dutch colonization.

---
E. L. Ratzlaff, ImWeichselbogen. Mennonitensiedlungen...;
SGKP, t. V, 1884, s. 285.