gm. Słupno, pow. płocki, woj. mazowieckie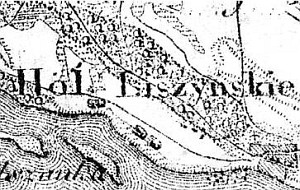 The village was mentioned for the first time in 1363. The Dutch settled in the village at the beginning of the 19th century. In 1884, the village had 38 houses, 197 residents, and an Evangelical house of prayer. Its area equaled 596 morga.
Liszyno is a linear village located on the northern side of the Vistula and southern side of the Zakroczym-Płock road (near the flood-bank). The cultural landscape of the village is well preserved with planted vegetation, homesteads located on artificial rises, and drainage canals. Homestead driveways are situated on elevated embankments - trytwy.
Majority of buildings are modern; however, three traditional Dutch buildings have survived. They are (no. 4 - 1916; no. 6 - 1916; no. 7 - 1934) located along an east-west line with residential sections facing east. The building that is in best condition (no. 7) is situated in the western section of the village.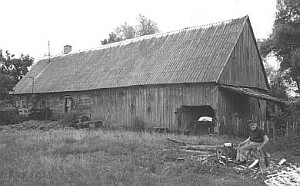 Building no. 7 dates from 1934. Its residential section, a cowshed, a barn, and a coach house are located under one roof. The high walls are covered with a double-pitched roof with asbestos tiles. Walls are built of wood (poplar, pine, and oak) and have two types of structure: a corner-notched log structure with dovetail halvings and protruding log ends and a timber frame structure, which is reinforced with angle braces and struts and boarded. The truss work has a rafter-collar beam structure reinforced with queen posts.
The residential interior has a two-bay and three-axial layout with a centrally located wide chimney, which separates two kitchens and two rooms. Czarna kuchnia is located low on the ground floor. The building is preserved in a good condition.

---
SGKP, t. V, 1884, s. 327.