gm. G±bin, pow. płocki, woj. mazowieckie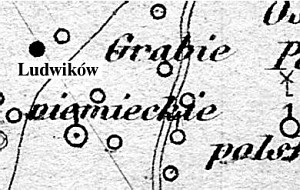 The village was founded under the Dutch law at the end of the 18th century. In 1800, it had an Evangelical school. Initially, it probably was part of the village of Grabie Niemieckie because it was not present on the contemporary maps. In 1946, the village still had a wooden windmill dating from 1906. Ludwików is a linear village located to the west of the Dobrzyków-G±bin road along a north-south line. It was settled by the Dutch at the beginning of the 19th century.
The cultural landscape characteristic for the Dutch colonization has been transformed; however certain elements are still visible: planted willows and poplars. No historical objects characteristic of this colonization have survived.

---
Dzieje Gostynina...;
SGKP, t. II, 1881, s. 86.