gm. Łomianki, pow. warszawski zachodni, woj. mazowieckie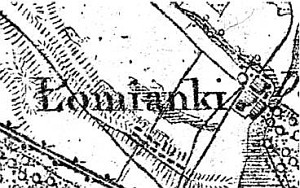 In 1827, the village had 30 houses and 250 residents. It was part of the estate that included a manor and the villages of Łomianki and Dąbrowa. In 1884, Łomianki had 24 farms and a total of 258 morga of land. Łomianki was not a Dutch village; however, it was inhabited by Mennonites, who belonged to the Nowy Kazuń church. No material evidence of the colonists' residence is present.
Łomianki is located to the north of Warsaw, on the eastern side of the Warsaw-Gdańsk road.

---
KZSP, s. 34;
E. L. Ratzlaff, Im Weichselbogen. Mennonitensiedlungen...;
SGKP, t. V, s. 691.